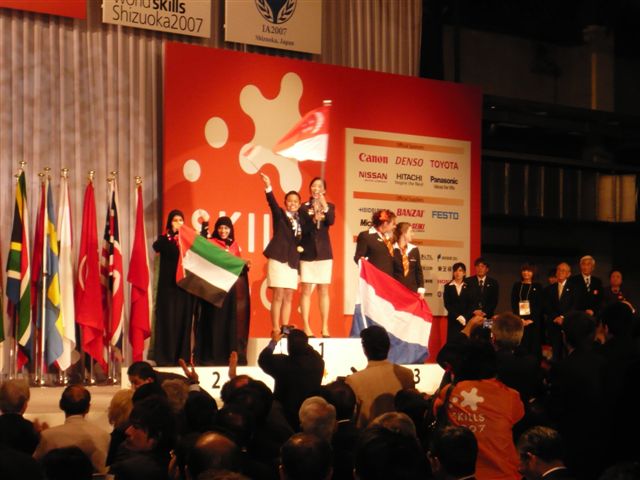 How
WorldSkills

Helped Launch My Career
An interview with
Aisha Alansari
Profile
Name:

Aisha Alansari

Country:

Fujairah, United Arab Emirates

Current job title:

Senior charge nurse
Aisha Alansari was the first Emirati and the first Arab competitor to win a medal at a WorldSkills Competition, when she took the silver medal for Caring, with her team mate Ablah Hefaiti, in Shizouka, Japan in 2007.
As she explains, winning a medal was the launch pad for a successful professional career in nursing.
How did you come to participate in WorldSkills Shizouka 2007?
Both I and my fellow competitor were chosen from our institute of nursing after graduation, because of our academic achievements as local students. Our skills in nursing led to us entering the Caring category of the competition.
What did you have to demonstrate during the competition?
It focused on community nursing care, which plays a key role in the prevention of illness and promotion of public health, and the tests we were asked to undertake involved demonstrating our nursing skills in a realistic healthcare setting, with actors taking the role of clients. We competed for four days, were placed in different scenarios, and demonstrated our skills at three stations, all with a time limit.
Why do you feel you stood out from your peers and impressed the judges?
I believe it was due to our strong basic knowledge and the fact we have been prepared for, and have previous experience of, all kinds of issues and conflicts that a nurse may encounter. And we also have the skills necessary for a nurse to address these issues and conflicts.
Alongside our abilities as nurses, we also had the confidence in ourselves that allowed us to achieve most of the requirements of the competition. In the end, the difference between our team and the top-ranked team, from Singapore, was just 0.25 points.
How did it feel to win the silver medal?
To be chosen was a dream in itself, so when our names were announced as the winners of the silver medal, it was unbelievable – it was also a shock, but the nicest and happiest shock I have ever had. We were very proud of ourselves, and proud for our nation, as it was the first time a team from an Arab country had won at this competition.
How do you feel this accolade has made a difference to your life?
Visiting such a big country, and meeting a variety of people from different nationalities in such a prestigious global competition, has broadened my worldview. It allowed me to enhance my knowledge, to build on what I already knew, and it made me more confident. It gave me the hunger to seek more knowledge and pursue higher education, so I can fulfill my ambitions.
As a new graduate at the time, it was the first step toward addressing new challenges in life. And it was also the first time I had been away from my family, so it helped me to realise how it would feel to be far away from my home in the future, the difficulties involved, and how I could prepare myself to face them.
Has winning a medal in the WorldSkills Competition made a difference to your career path?
It has definitely made a difference. Immediately after our graduation, we were given priority to join the MOH facilities, and once at the hospital, we were so well appreciated by the administrators. This has ensured we can use our skills and talents in critical areas, and that we are oriented and trained toward reaching the highest possible level of practicing in our field and in our career.
Where has your career taken you since the WorldSkills Competition?
I continued my studies, and I have recently graduated from RAK Medical and Science University with a BSN in Nursing Science. Currently, I am seeking to move into the field of community nursing.
Do you feel this move has, in some ways, been influenced by your involvement and success in the WorldSkills Competition?
Yes, because that achievement encouraged me to gain more knowledge and realise how important community nursing is to the whole field of prevention and health promotion, in every society. That inspired me to continue my studies, and now I am close to being involved in community nursing myself.
What would be your message to other teenagers and young adults thinking about entering the WorldSkills Competition?
The chance only comes once, so do your best to be a role model, and to make your country, your family, and yourself proud. Take the opportunity to learn from others – and don't aim for anything less than the top ranking.