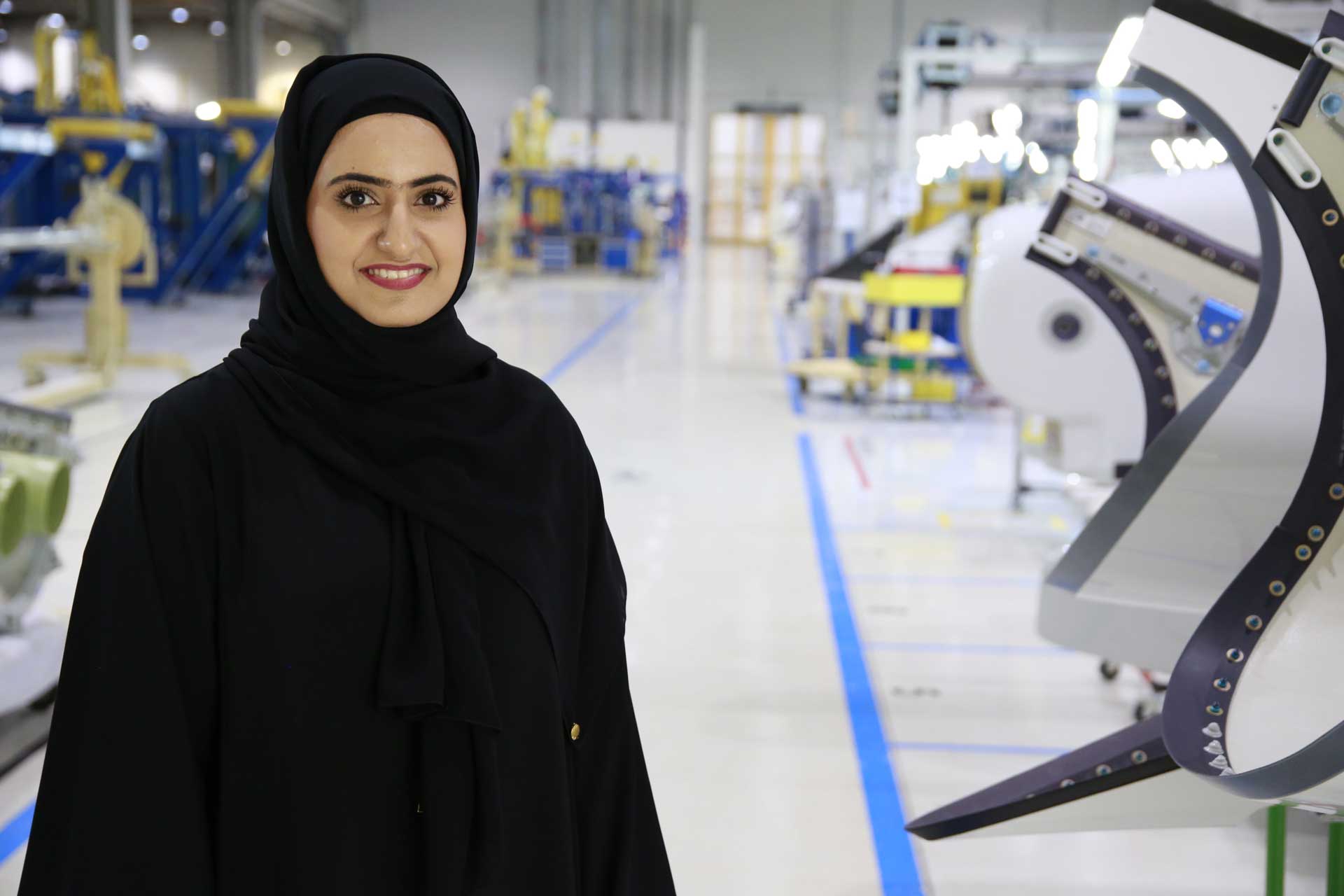 Skills

Unite Us
7. Maryam Al Kuwaiti
Manufacturing and Engineering Technology
In the deserts of Al Ain, a young Emirati woman called Maryam Al Kuwaiti is working on a project that could revolutionize the aviation industry. As a manufacturing engineer at Strata Manufacturing, she is one of the first Emiratis exploring the potential of 3D-printing technology for industry.
Along with Siemens and Etihad Airways, Strata is working on the region's first 3D-printed aircraft interior parts. It's an exciting project which aims to harness technology to develop new approaches to manufacturing in the Middle East.
For Maryam, being involved in this work vindicates her decision to pursue mechanical engineering. She saw it as an "exciting and diverse" field – and she is encouraging more young Emiratis to find out, through WorldSkills Abu Dhabi 2017, how they can turn their hopes into reality.
Maryam, who is from Al Ain, was the first in her family to study mechanical engineering, earning a Bachelor of Science from United Arab Emirates University. "It was totally new for me," the 25-year-old explains. "But I liked having hands-on experience, and other engineering fields are not as hands-on as mechanical engineering.
"There are, however, many branches – robotics, aerospace, others – and at first I didn't know exactly what I wanted to do. So, through several internships abroad, I tried to explore them all."
The first was at the University of Oxford, followed by another at GlobalFoundries, a semiconductor company. It was the third internship, with leading aircraft manufacturer Airbus in Toulouse, that proved to be her "flashbulb moment".
"I was amazed by what I saw there, and I knew this was the field I wanted to concentrate on," she recalls. "It was a huge and very challenging industry, one which the UAE also envisions very big things for. At that point, I had a feeling of self-realization, and that I wanted to be a leading factor in the growth of this industry in the UAE."
Maryam made what she sees as "the natural choice" to join Strata, wholly-owned by Mubadala. Based at Nibras Al Ain Aerospace Park, it partners with the biggest names in aircraft manufacturing, including Airbus and Boeing. Its focus on aerostructure manufacturing meant it was a perfect fit for Maryam.
"It's also a relatively young company, so I knew I would learn quickly," she says. "I applied before I graduated in 2014, had my summer vacation, and when I came back I started straight away – meeting new people and learning new procedures during the company's one of the busiest weeks of the year. I was immediately involved with the company's core projects and I loved it."
Three years on, Maryam sits in the 'clean room' of Strata's huge plant close to Al Ain International Airport, overseeing production lines as a member of the materials and processing team. Their technical knowledge is essential to transforming raw materials into actual aircraft parts, maintaining quality and providing technical support.
"Every aircraft component must go through specific stages, and we also have to find solutions to problems by using our technical expertise. Every day you walk down the production line and face a new challenge. That's what I like."
Currently in the pilot stage, Strata has already developed 3D-printed parts for Etihad Airways cabin interiors. The aim is to expand the project into a three-year 'joint road map' with Siemens and Strata, outlining the next steps for the industrialization of 3D printing and the production of complex aircraft components, on demand, for customers throughout the region. It also has the potential to open up training opportunities for UAE citizens.
Maryam's role focuses on the manufacturing of the 3D part. It's a process which can take hours or even days to print but it's significantly cheaper than machine-produced parts. The process, which involves creating 3D objects from layer upon layer of material, also gives engineers unprecedented freedom to design and create lightweight components, assemble them into a single part, and optimize their performance.
"With this project, we are looking to show the capabilities we have in the UAE, and demonstrate that we are able to do these things in such a short time," said Maryam. She addressed senior government officials at the Global Manufacturing and Industrialisation Summit in Abu Dhabi this year, as part of a summary of Strata's work and plans for the future. "I presented the 3D-printed screen shroud, the first part to be certified and installed in an aircraft interior in the MENA region," she said. "That was a big highlight for me."
She has also published an academic paper on composite materials as part of her Master's degree studies in Mechanical Engineering at UAEU.
Maryam is encouraged to see an increasing number of women studying in this field. Eighty six per cent of Strata's Emirati workforce is female and Maryam believes women are beginning to make a mark in this field.
She hopes to see more young, talented Emirati females seek internships in the aerospace manufacturing field, including Strata, where she says: "I was surrounded by male colleagues from many countries when I started, but I never felt daunted.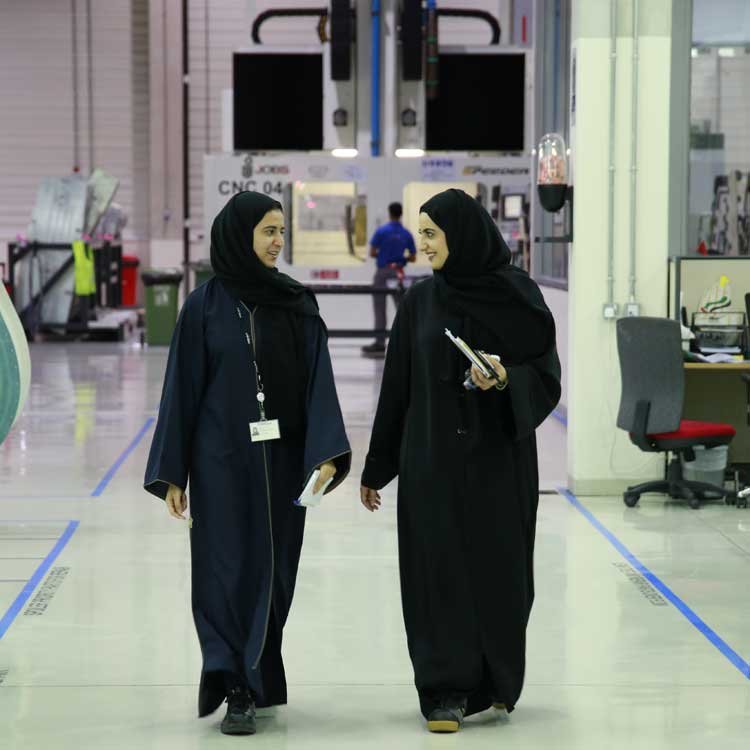 "I would encourage Emirati females to apply for jobs in this industry because the world is moving toward a Fourth Industrial Revolution – or Industry 4.0 – and this is leading to breakthroughs in advanced manufacturing and creating 'smart factories', where people and machines work together seamlessly.
"The UAE plans to be a big player in Industry 4.0, so there is, and will be, a need for engineers and people with the necessary vocational skills to play a role."
Maryam is about to finish her Master's degree and is keen to pursue a PhD in mechanical engineering. Later this year she will be taking an international manufacturing training internship at Boeing. But at the moment she is focused on "being better at my job, continuing to learn, and continuing to challenge myself".
As someone who understands the value of choosing an exciting career as well as the importance of a skilled workforce to the UAE's economic diversification mission, she hopes WorldSkills Abu Dhabi 2017 will open eyes, and new horizons.
"At university, there can be a focus on theory, and that can leave a practical skills gap," she says. "With that skills training, it is easier for someone to adapt to a working environment – hands-on experience, as we find from our interns at Strata, gives you a jump-start and a head-start.
"WorldSkills Abu Dhabi 2017 is a very important competition in terms of rectifying skills shortages. Everyone who attends will know what employers are looking for, and what to expect – they will experience new skills, and meet industry experts. It is a fantastic opportunity, and I hope many young Emiratis take it."