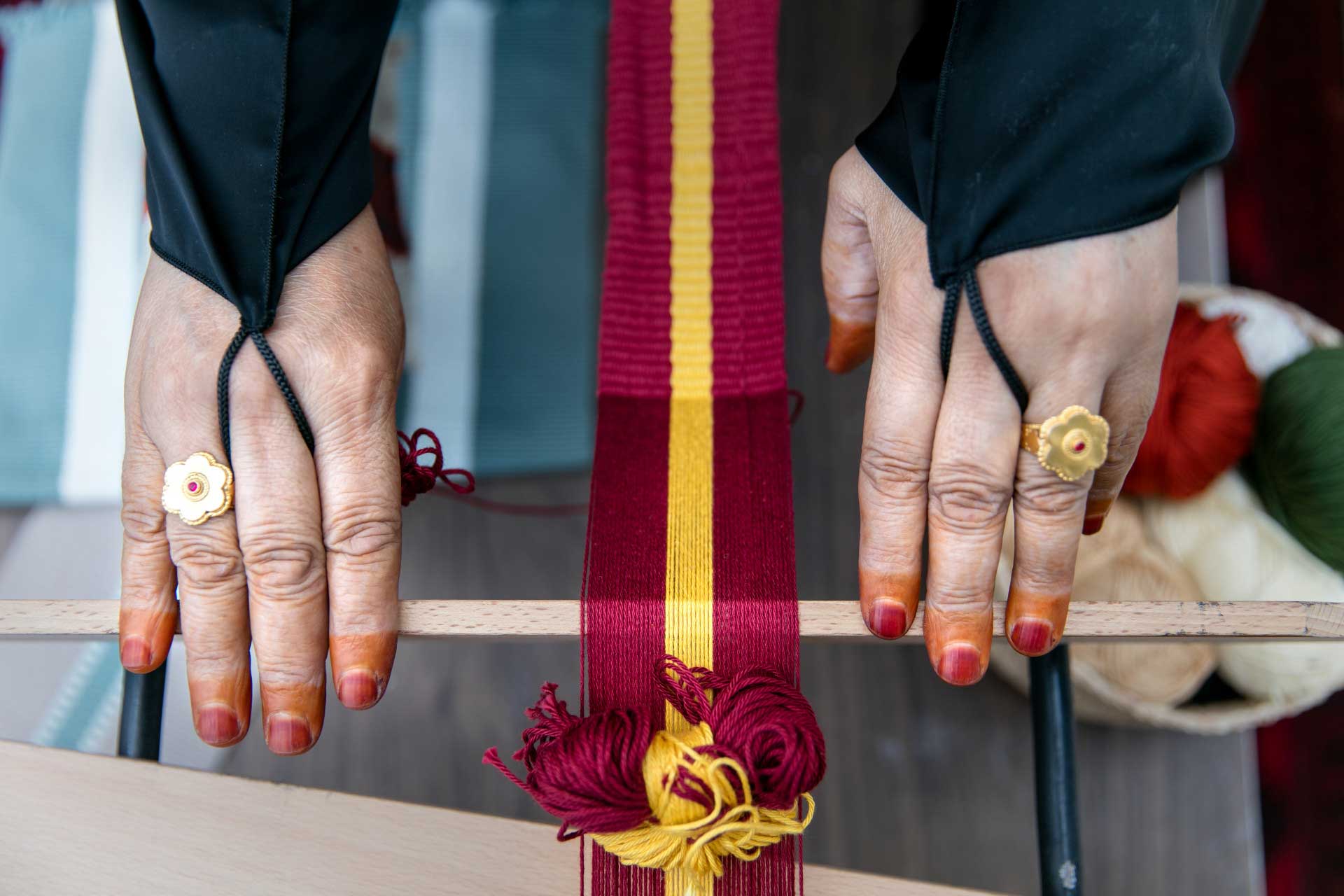 Skills

Unite Us
5. Al Ghadeer
Fashion Technology
In the most fashionable circles of Abu Dhabi and Dubai they are set to become the ultimate accessory.
Talli Clutch bags, each handmade from the softest camel leather and intricately woven silver and gold threads, are certain to attract admiring glances even at the most distinguished gatherings.
But the clutch bags also tell another story: of traditional Emirati skills re-imagined in a way that empowers the lives of the team who make them.
The bags, which will soon be available to the public, have been created by Al Ghadeer UAE Crafts, an enterprise which seeks to preserve skills handed down through generations of women and increase awareness and respect for them. The craftswomen, who are often from less privileged backgrounds, receive all the proceeds from the sales.
For Mariam Khaled Al Kindi, who heads Al Ghadeer, the project is as much about ensuring that traditional crafts and skills remain relevant in the 21st Century, as it is about simple commerce.
"It is all about helping the craftswomen," Mariam explains. "We want these women's lives to flourish, and to help them in all aspects of their lives – their finances, their mental and physical wellbeing. We want to empower them as they create things of beauty."
Just 15 bags have been made so far. Appropriately, they have been gifted to the patron of the project, Her Highness Sheikha Shamsa bint Hamdan bin Mohammed Al Nahyan, wife of His Highness Sheikh Hamdan bin Zayed Al Nahyan, Ruler's Representative in the Western Region and President of the Emirates Red Crescent, as well as to their daughters.
The project demonstrates that skills have long been a way of life in places like Abu Dhabi. The skills evident in the Talli Clutches have their origins long before oil and gas revenues transformed the UAE into a modern and dynamic economy. As the country prepares to host WorldSkills Abu Dhabi 2017, the world's biggest vocational skills competition, skills are a vital part of the UAE government's determination to diversify the country's economy in a post-oil world.
The 10-year-old Al Ghadeer Project, seeks to empower less privileged female UAE nationals through indigenous arts and crafts. It offers women vocational training in making traditional Emirati products, such as coffee sets, essence sets and chocolate and date baskets, using authentic local and recycled materials.
"It is special to keep the traditional Emirati crafts alive," Mariam explains. "In traditional souks you see the Indian culture, Arabic culture, Turkish culture. But we did not find something that gives you an idea about Emirati culture. It is not only about keeping the Emirati culture and traditional alive - but to help in modernizing it."
Before moving to Al Ghadeer UAE crafts earlier this year, Mariam worked for the Crown Prince Court in Abu Dhabi and the Office of Planning and Strategic Affairs. She changed careers, she says, because "I have always loved UAE crafts - it has always been a passion of mine, and I love every day of my working life."
Creativity is a vital but delicate process at Al Ghadeer UAE Crafts. "The bags are made by craftswomen at home. It takes two women one month to make each clutch bag – one woman weaves the fabric, the other constructs the shape - so they are unique, very bespoke.
"They are all individual, one-off pieces that take a significant amount of time to make. They offer the exclusivity factor. You cannot find them anywhere else but here. And hopefully that makes owning one of them a privilege."
The skills demonstrated in other products led to the idea of the clutch bag. "The ladies' work was so beautiful that we wanted to introduce a luxury line. Before, we focused on corporate gifts, such as trinkets, but we wanted to make pieces for woman who really appreciate the finer things," Mariam says.
"Owning them is like owning art – they have an identity, they are something that lasts, something made by UAE hands and using UAE crafts. Everything you see in the bag has the stamp of the UAE. Most important, they are made with love."
The love that goes into making the bags comes from craftswomen like Sawsan Hamdan, whose passion for her work shines through in her words.
"I was inspired by the way carpets and fabrics are woven, so I implemented the same technique on the handwoven Talli threads," she describes. Mariam hopes the bags will become coveted items for women and start their own trend. They are soon due to go on public sale, with a pop-up store in Abu Dhabi's famously luxurious The Galleria mall, and the goal is for them to be sold in prestigious boutiques. But the bags themselves are just the first step for Al Ghadeer UAE Crafts. "We have really big plans," said Mariam.
Mariam has found a way to do what she loves, and she urges young people who are considering entering WorldSkills Abu Dhabi 2017 to recognise the opportunity it provides for them to do the same.
"I really believe in following and chasing your dreams and passions," she said. "If you do what you love in life, you will be successful wherever you go.