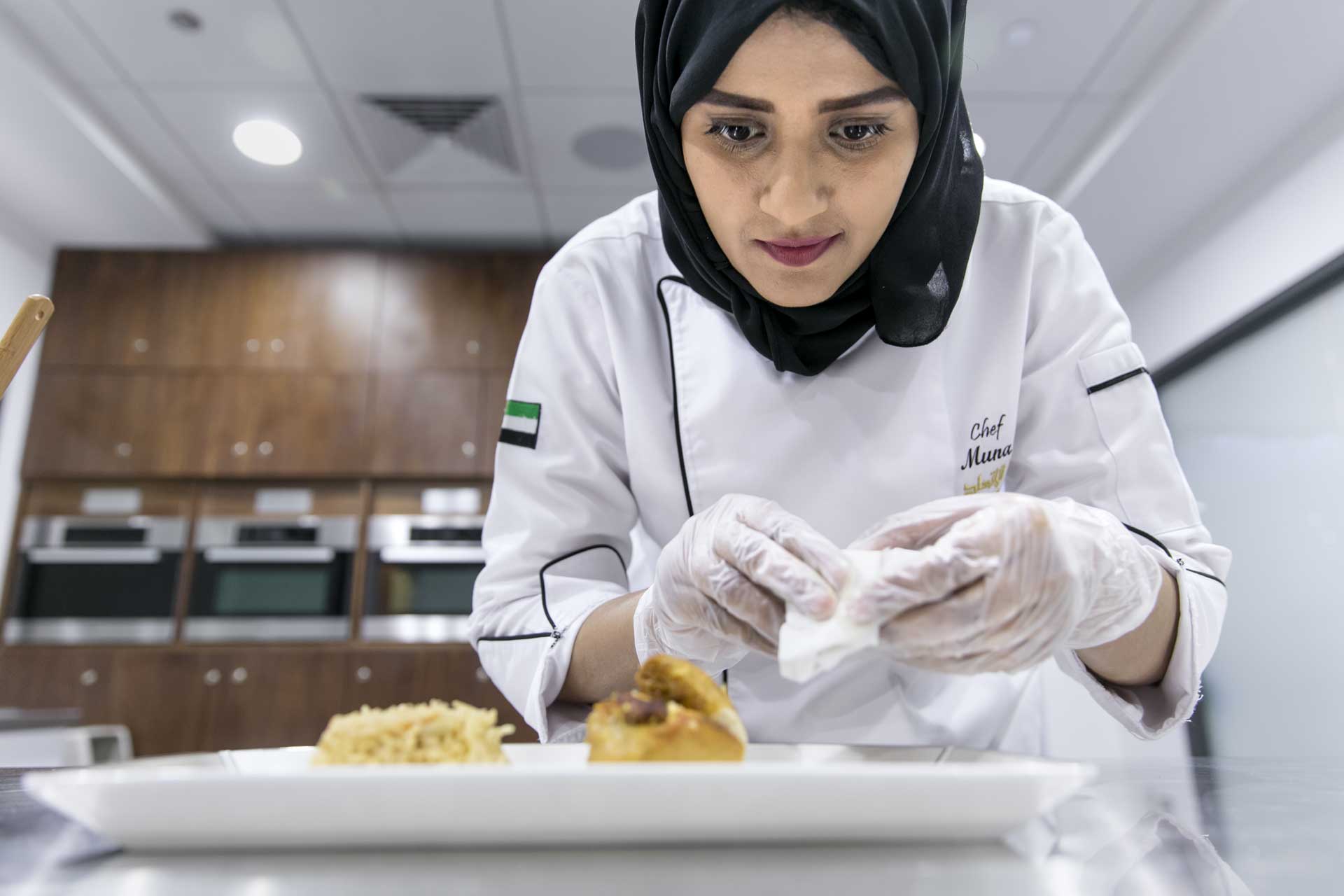 Skills

Unite Us
4. Muna Al Hashemi
Cooking
"One day, out of the blue, I just resigned." recalls Muna Al Hashemi. "I felt that life has enough problems, so why do something you don't love? I didn't want to be a slave to money."
Despite having a great job as a well-paid accountant, Muna realised food and cooking were her true passion. Today she is the first Emirati to work as a chef for Etihad Airways.
It wasn't easy. Accountancy was felt to be more respectable for a young Emirati woman. It took determination and what she calls "pestering" for Etihad to hire her. But her passion for cooking has paid off. Wearing her traditional chef's whites, she now prepares delicious meals every day for thousands of people in Etihad's lounges at Abu Dhabi International Airport.
Muna's devotion to creating fine cuisine has seen her take part in the Taste of Dubai festival and the Sharjah Food Festival, as well as compete in the Gulfood contest, winning a certificate – part of what she calls "my cooking show life". She aspires to become a certified master chef and set up culinary schools in the UAE, emulating her hero Alain Ducasse, one of the world's top chefs.
"When I was 12 or 13, my mother told me it was important to know my way around a kitchen," she recalls. "As we didn't have a housemaid, she divided the housework between me and my sisters, and gave all the cooking duties to me. I was an early riser and used to prepare breakfast for the family. My mother always thought women should be able to work with their hands, and taught us that cooking was a skill for life.
"I started making breakfast, then my own bread, and I really enjoyed it. If I ever got angry, I would put all my emotions into cooking, and as I got older I got more adventurous and began trying more extravagant recipes.
"There is a science behind food. It is not like 'here is a recipe, go and make a dish'. I learned a lot by doing it this way."
Despite a burgeoning passion for cooking, Muna was urged to follow a more 'traditional' route for an Emirati woman, rather than a career in catering. "It was felt that this sort of job was essentially like a housemaid, on a slightly higher level," she explains.
Having studied business, she worked as a senior accountant for five years. She was well-paid, and enjoyed a "luxury life". But it wasn't enough. "I knew it wasn't me," she says. "I wanted to find myself again.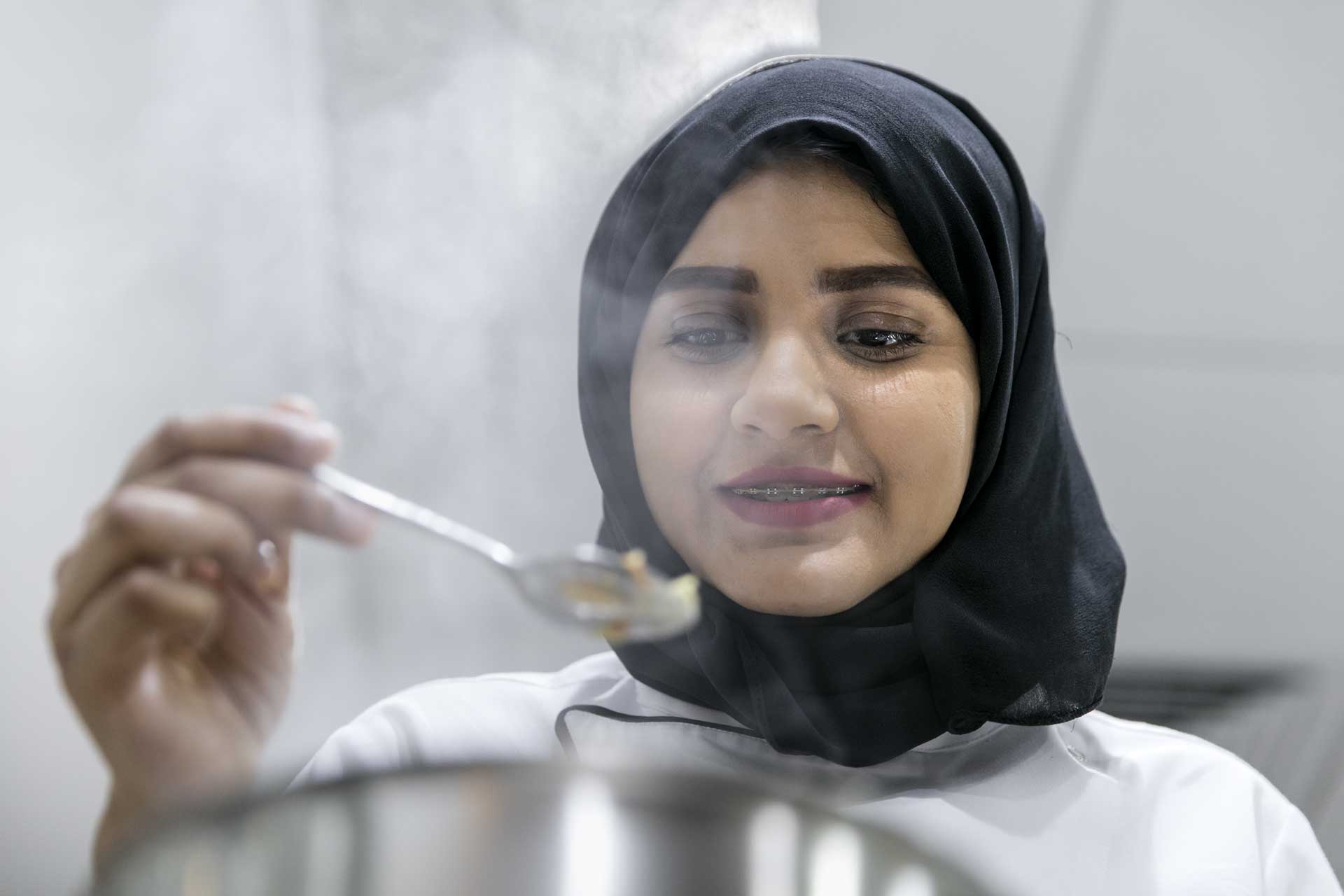 She enrolled at the International Centre for Culinary Arts (ICCA) in Dubai and for the next year travelled to the course from her home in Abu Dhabi to train as a chef for up to 10 hours a day. She did it without telling anyone.
"I put too much pressure on myself, so I didn't want pressure from anyone else as well," she said. "I loved culinary school, but when they found out what I was doing, my friends thought I was crazy. They would say to me 'You were living the good life – why do you want to be a chef?'."
Muna learnt the essentials of food hygiene and safety, food inventories, handling and cleaning equipment, selecting ingredients and the secrets of preparation. That was all before even starting on the basics of creating a range of healthy dishes.
"There is a lot of knowledge behind this job," she points out. Being a chef means being able to see what the finished meal will be from one glance at the ingredients, and playing the role of banker, scientist, and hygiene expert, as well as being excellent at cooking – all in a stressful environment and against the clock.
Her first job was at the luxury Jumeirah Zabeel Saray in Dubai, but the big break came when she spotted an opening on Etihad Airways' in-house catering team. She applied, and persisted, asking the airline every day when they would be hiring her, until finally being told she would be its first Emirati in a catering role.
"It's totally different from hotels," she said, outlining why Etihad held such appeal. "A hotel restaurant, any restaurant, might only serve one type of food, but airline focus on so many areas. You have to learn about different international cuisines, and when you serve people at an airport, you are serving people who might be visiting your country for the first time, so you want to make a good impression."
Being handed her crisp chef's whites – with 'Chef Muna' embroidered on them – was one of her proudest moments.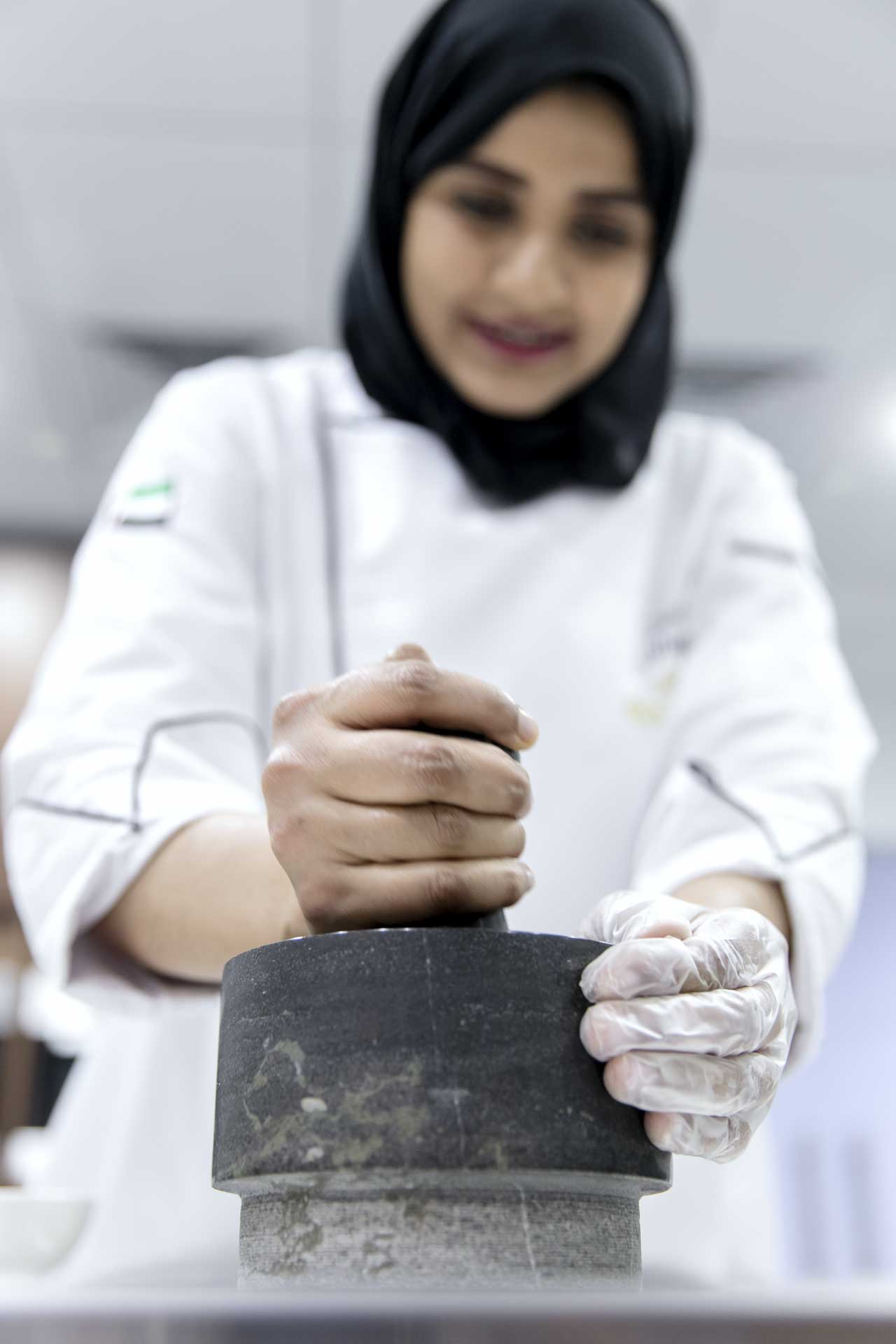 "Every time I come into work, it's another step forward in my career, and one step closer to my dream of becoming a world-renowned chef."
Chasing that dream is hard work. She starts at 6am and while some days may be eight hours long, others can be 15. But she wouldn't have it any other way. "If you want something enough, you will work for it, even die for it," she says.
"The challenge that comes with being a chef is how to improve yourself every day. Anyone can cook if you give them a recipe. What is difficult is understanding how to create something different, something better – a work of art, your own dish, your signature dish. Becoming a chef is easy. Staying a chef is the hard part.
"It's also not what some people would consider a 'classy' job. You have to wipe, clean, remember hygiene and handling rules. But I like all of these things, I like working hard, and I like working with my hands."
She is training in all areas of Etihad's dining operation, an indication of the impact she has made since first arriving at the airline when, she jokes, her fellow staff members were so surprised to have an Emirati colleague that "I had to keep showing them my passport!".
"Personally, I like haute cuisine, but I want to learn the skills required for all departments," Muna says. "I believe covering all the bases will help me in the future. "But I do like the fine dining in the first-class lounge, Etihad's top kitchen, where presentation is very important and the food is very personalised.
"If I had to create the perfect meal, it would be haute Emirati cuisine, reflecting Emirati culture with a modern twist. Visitors can come here thinking we just serve rice, but while we have the same dishes throughout the GCC, we make them in different ways. Whatever people think, our food differs across the region. I want to reflect that."
Now aged 30, Muna says: "My dream is to be a master chef. Nothing is impossible. I just focus on my dream, and if I do that, I know that one day I can reach it."
It's a message of empowerment that she sends to those taking part in WorldSkills Abu Dhabi 2017 and in her involvement with EmiratesSkills where she has hosted a live cooking show as part of the organisation's mission to inspire young Emiratis to embrace new skills and build careers in technical and vocational trades.
"Some people are too afraid to do something they love," she says. "When I went to culinary school, I learned how important it is to follow your dream.
"I would love to see more Emiratis in catering, and I want to be an example for all UAE women, showing that we can work and excel in this field by starting at a grassroots level, learning the basics, showing commitment and growing by learning. There are many female master chefs running big, big kitchens around the world and being very successful.
"And we can reach this level too. Yes, it's hard. But we can get there."